iX3M
[

Gps

]

and iX3M

[

Pro

]
Probably the best Dive Computer you have ever had.
The Biggest, colorful, display ever
Huge and with super birght colors.
The astonishing 2.8 inc. IPS full-color display of the iX3M is the largest in its class. It is super easy to read even in low-light conditions.
a display that is even brighter underwater.
Fully Customizable to match your style.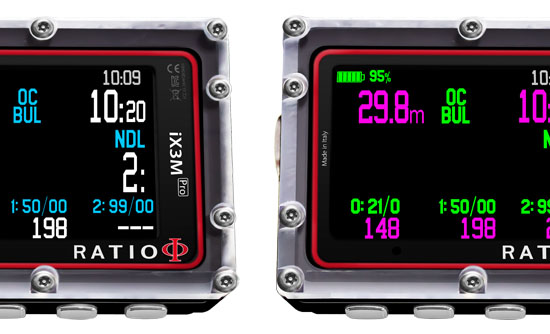 Air, Nitrox, Trimix, CCR up to 10 Mixes
iX3M has everything a diver may ask for.
iX3M Easy
Air and Nitrox, 2 Mixes

iX3M Deep
Air, Nitrox, Trimix Normossico, 3 Mixes

iX3M Tech+
Air, Nitrox, Trimix, CCR, 10 Mixes

iX3M Reb
Air, Nitrox, Trimix, CCR with Sensor Board Connector, 10 Mixes
Multi-tank Transmitter
iX3M can monitor up to 10* Transmitters at the same time.
*(up to 2 for iX3M Easy, up to 3 for iX3M Deep, up to 10 for iX3M Tech+ and iX3M Reb)
Multi Transmitter: Side Mount Mode
A Side Mount dedicated mode to unleash all the possibilities of the Multi Wireless Transmitter with iX3M.
SideMount Mode: Tank Auto-Switch. Start breathing from one of the two Side Mount tanks: the iX3M will automatically change the transmitter shown on the RBT/ BAR(PSI) screen.
SideMount: Total RBT iX3M calculates the RBT (Remaining bottom time) taking into consideration the Side Mount tanks containing the same gas.

Double
Core

Deco

Algorithm
Complete Bühlmann and VPM* built-in
Choose directly from the iX3M's menu the algorithm you want to use in your next dive.
*for iX3M Deep, iX3M Tech+ and iX3M Reb only
User settable* Gradient Factors and Critical Bubble Radious
Set the Algorithm, even during the dive.
*for iX3M Tech+ and iX3M Reb only
Full Deco Table,

during the dive
Deco Planner before the dive and Deco Table during the dive.
All the deco stops. Shown during the dive for both Bühlmann ZHL-16 B and VPM-B.
Super Easy-to-Use
4 Mechanical buttons + HOME button
User-friendly menu and 4 Mechanical Stainless Steel buttons to navigate it. Plus an "Home" button to go back to the main dive-screen. Just in case..
Multi language Menu
English, Italian, German, French ... and more are coming.
Vibration Alarms
The iX3M has alarms only you can feel, even with a dry-suit.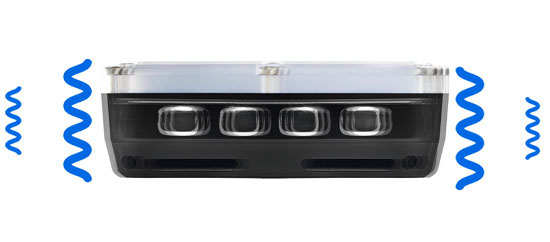 Integrated GPS
*
Just set a point, the iX3M will bring you there.
A state of the art GNSS that can use all type of satellites systems (GPS; GLONASS; QZSS; SBAS; BEIDOU) provided by all the major nations (USA, Russia, Japan, and China) for a perfect worldwide signal.
*for iX3M [GPS] series only
N.B. The satellite signal is not received underwater.
Nitrox Analyser integration
The World's first dive computer that can analyse your Nitrox tank.
Simply plug the RATIO Nitrox Analyser to your iX3M and transform it in a professional Gas Mix Analyser with a real time completely automatic Nitrox analysis.

Using its sensors the iX3M will check the correct calibration and the atmospheric conditions to make a perfect analysis of the Oxygen % inside the tank.
Integrated Gas Blender
Just tell the iX3M what is inside your tanks and what Mix you want to get.
The iX3M will tell you how to make it. Both Nitrox and Trimix.
Super Compass
3D, 1° of resolution and +/- 1° of accuracy.
Tilt compensated up to 85° supported by a complete inertial platform. With visual and numerical indication of the direction and the reciprocal direction.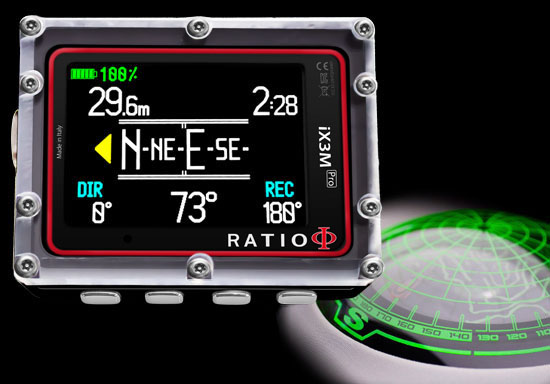 We do care for our Oceans
We are improving the sustainability of our products every day.
Commited to ZERO plastic usage
We removed all plastic bags from the iX3M end-user packaging. We use corn based wrapping protections instead of plastic bubblewrap and we are committed to remove any single-use plastic in boxes and shipments.


100% Recycled Cardboard
We use 100% Recycled Cardboard for our boxes and water-based ink for our package leaflet.


No Printed User Manual
The User manual is on-line only. We save up to 30 A4 paper sheets for each iX3M we sell.